SALES POST 2-18-09
It's that time again... I really hate to do it, but all things must go. I have several the
GazettE and Alice Nine. tour good items for sale. Please feel free to browse and look at the
items I have listed for sale. Feel free to ask me questions or make me an offer.
ガゼット items:
$60 or BEST OFFER 7 LIVE TOUR PAMPHLET
SOLD!!!
This pamphlet is from the GazettE's 7 live that took place on March 10, 2009. It's not a usual pamphlet in that, it's completely different from the way they usually do pamphlets. I really think this one is very nice. It's larger in size (thicker) and each page can be removed.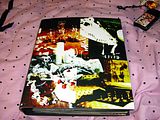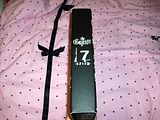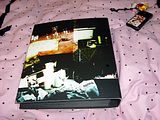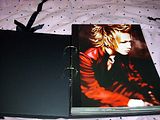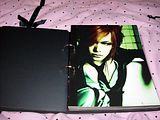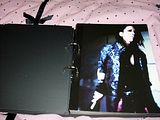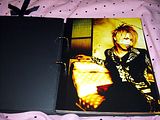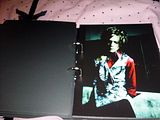 $40
Akuyuukai 「悪友會 -あくゆうかい-」 (Rare!)
This is the papercase first press
limited edition
release from 2003. All of the original papers are still in the sleeve, which can be seen in the picture. I also have the plastic case version. So when buying, please let me know which one you want. Both are first press editions.
$38 Burst into a Blaze 2008 Live Bandana
SOLD!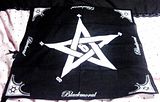 $40 From the Distorted City 2008 Bandana (Heresy Only)
SOLD!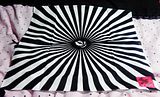 $25 Decomposition Beauty 2007 Compact Mirror
SOLD!!
This mirror is from the Meaningless Art that People Showed tour final.
$15 each
Heresy Fanclub Magazines Garish Room 3,4 & 5
GARISH ROOM 3&4 SOLD!
$5/$8 (shipping included)
Buttons and 1 Reita Keychain
SOLD OUT
All of the buttons and the keychain came from an idol shop in Harajuku. Each button is $5 a
piece and the Reita keychain is $8. This includes shipping.
Calendars
1. 2005 Calendar - Disorder Outfits $45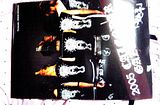 2. 2009 Calendar - Leech Outfits $40
Make me an Offer 安心the GazettEくん(Emergency Kit Set)
SOLD!!
This item is from the 2005 Maximum Royal Disorder Tour. Very rare item -when I found out where
it was from I got really excited..and now I'm having to sell it to cover rent. All of the
original items are still intact as you can see from the pictures.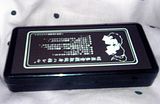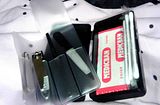 $33 the GazettE file folders set
SOLD OUT!!
These were sold through ZY earlier in 2008 and can no longer be purchased. The six folders are
plastic ... one for each member and a group shot. I took a picture of what Ruki's looks like
with paper inside it..as well as the back of the group folder to give you a better idea of what
they are. They make me wish I was still in school so I could use them there. XDD
Best offer
Repeated Countless Error Privilege Posters
AOI POSTER
SOLD!
KAI POSTER
SOLD!!
REITA POSTER
SOLD!
RUKI POSTER
URUHA POSTER
SOLD!
Each one sold separately! These were given to only the people who bought RCE from Like an
Edison. There is one for all five members. These are in mint condition - never used and only
taken out of the plastic to take photos of. These are the size of movie posters.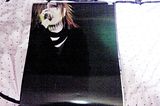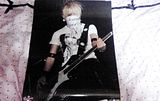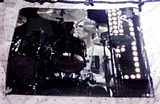 Stickers
SOLD
The smaller stickers $4 and the bigger Stacked Rubbish sticker $7. Shipping is included in the
price.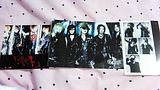 $10 Leech Privilege Card set + photo
SOLD!
This came with Leech - the cards feel like postcards...they're not photos. And they came with a
photo which is the minature of the bigger Privilege poster from Like an Edison.
Photo sets
1. Pulse Wriggling to Black 04 $13.50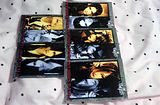 2. RCE Tour final $20 - this set was special ordered online in Japan only.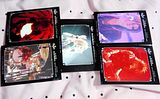 3. PSC 10th Anniversary $14
SOLD!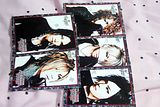 Alice Nine. items:
$16 Alice nine. photo set
SOLD!
Shipping is included for this set.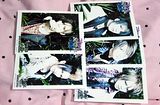 $10 each
Alice nine. guitar pins & keychains
Each one is
sold separately
. Or all 4 as a set for $38. International forum limitation set keychians from 2007 Blue set is Saga's and Black guitar is Hiroto's!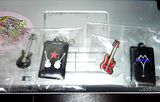 $28 or best offer (outbid other potential buyers)
Club Alice Champagne glass
SOLD!
This glass was given out at an Alice Nine. fanclub only live - 1 night
PS Company items:
$55 or best offer PSC 10th Anniversary Live Pamphlet
SOLD!!
This Pamphlet was sold at PSC's 10th anniversary live.
*I'm sorry but I can only accept paypal for these items. All prices are USD.
*Please note, that shipping is
not
included in the price of the item unless otherwise
stated. Shipping will be calculated along with the paypal transaction fee [(3.9% + $.30)].
All items will be shipped from Japan once your paypal transaction is complete.
*All orders over $75 will have to be EMS shipping to protect both you, the buyer and myself.
***All comments will be screened. Feel free to ask questions if you have any and I'll try to
answer them if I can. :)
Current Mood:

busy
Current Music: ガゼット -「これで良かったんです…」